Linguine with Clams and Caesar Salad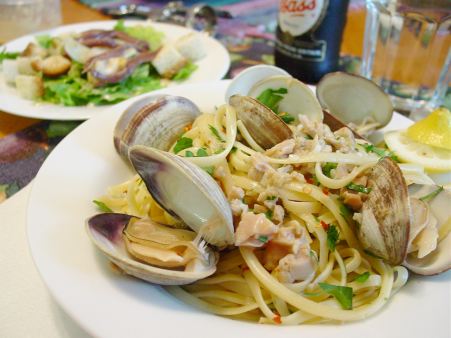 We think we made Grammy jealous tonight. After a short shopping trip with our daughter, she arrived to the smells of this meal. Unfortunately, she couldn't stay to enjoy it with us – she and Boppy were off to Ruth's Chris Steakhouse. Hope they were able to get something this good!
We'd been wanting clams since last weekend when Boppy steamed a few for the family. This seemed like a simple enough meal in which to enjoy them. The caesar salad on the side completed the Italian theme of this meal. We also like the caesar salad because it gives us the chance to have some thin parmesan slices in this meal. It's frowned upon to have cheese on fish dishes, so the salad provided a means to by-pass this un-written rule.