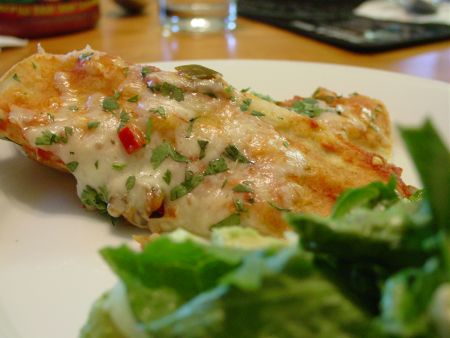 This is a fantastic little meal. Easy preparation. Very nice presentation. Authentic mexican taste. It's a little spicy, but that's what makes mexican food mexican.
We will bake the enchiladas, so we pre-heat the oven to 375 degrees.
We prepare the corn by shucking it and using a knife to cut off the kernels. Obviously, we are very careful while we are doing this. We stand the corn straight up-and-down, slicing down. We rotate the corn after each slice until all of the kernels have been removed. It may sound easier to use canned corn niblets, but why go to this trouble if you're not prepared to use the freshest ingredients possible?
First off, we saute the onions and peppers until softened. Next, we stir in the garlic and cumin powder. We add the black beans and the corn, stir briefly and shut the heat. Finally, we add all but 2 tablespoons of the cheese, again stirring briefly.
We prepare the torillas in the microwave. We dampen two paper towels, placing one on a plate wuth the tortillas on top of it and the other paper towel on top of that. We microwave (at regular power) the tortillas for 1 minute.
We fill the tortillas with 2-3 tablespoons of the black bean mixture. Actually, we're not sure how much of the mixture we use. We use enough to fill the tortillas while still allowing us to wrap them. We place each in a baking dish, seam side down.
Once all of the enchiladas are in the baking dish, we drizzle picante sauce and the remaining cheese. We cover the baking dish with aluminum foil and bake for 30 minutes.
We remove the dish from the oven and remove the aluminum foil. We sprinkle it with cilantro.