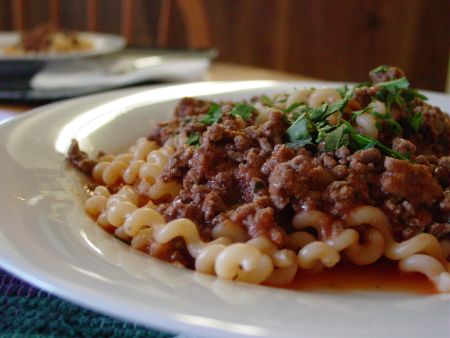 It's gravy, not sauce. And it's very good. This is typical Sunday afternoon meal in our little semi-Italian household. It's served early so that we have plenty of time to lounge around afterwards.
In our dutch oven, we warm 1 tablespoon of olive oil over medium heat. We add the onions and saute until translucent. We add the minced garlic and cook for another minute.
We put the garlic and onions into a blender with one can of the tomatoes. We puree until smooth and then put it back into the dutch oven. We then puree the other two cans of tomatoes (one at a time) and add them to the dutch oven.
We bring the sauce to a simmer over medium heat. We add the marjoram, basil, parsley, bay leaves and salt and pepper. We allow it to simmer for 30 minutes, partially covered.
After 20 minutes or so of simmering, we begin the process of making the gravy. In a large frying pan, we add the halved garlic to the remaining tablespoon of olive oil and heat until garlic is aromatic. We then add the sirloin, some more salt and pepper, and brown it until no pink remains. We drain the meat on a paper towel-lined plate and then return the meat to the frying pan with about a quarter of the sauce (which magically transforms the sauce into gravy!). We adjust the seasonings. We reduce the heat and allow the gravy to simmer over low heat. The bay leaves are removed before serving and the remaining tomato sauce is reserved in the fridge for tomorrow.
In a large pot, we bring water to a boil, add the fusilli pasta, and stir. We cook the pasta for about 12 minutes, drain in a colander. We spoon the pasta into bowls, top with some gravy and add basil, parsley and cheese to garnish.