Black Bean Burritos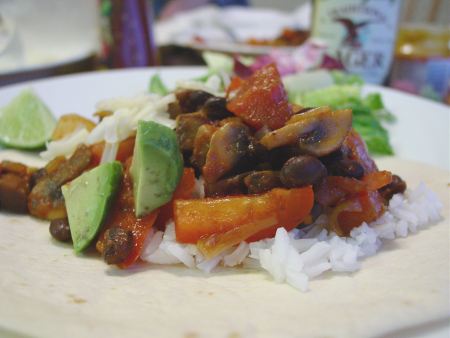 This classic burrito recipe is a great way to use up ingredients that you might have around the kitchen in a simple meal. The more ingredients that you have, the heartier the meal will be. Make sure you've got some salsa or other hot sauce to top it off!
Ingredients
1

tablespoon

vegetable

oil

2

small

onions

1

large

red

pepper

4

ounces

cremini

mushrooms

2

cloves

garlic

1

teaspoon

ground

cumin

1

tablespoon

ancho

chile powder

to taste

kosher salt

15½

ounces

canned

black beans

14½

ounces

canned, with zesty jalapeno peppers

tomatoes

(Del Monte)

4

flour tortillas

3

cups

white

rice

monterey jack and sharp cheddar

cheese

picante sauce

salsa

(Pace)

avocado

wedges

lime
We heat the oil in our dutch oven and saute the onions on low heat for about 5 minutes. We then add the red pepper and saute for another 5 minutes until softened. We add the mushrooms and cook on medium-low heat until they have released their liquid and are tender. We continue with the garlic, sauteeing just for a minute, and then we add the cumin, salt and chile powder and cook for another minute. Finally, we add the black beans and tomatoes and simmer gently for 10 minutes more.
We make the burritos by heating the tortillas between dampened paper towels in the microwave for 20 seconds. For each burrito, we put some rice, the black bean mixture, cheese, squeeze of lime, avocado pieces, and salsa on a heated flour tortilla. Roll up any enjoy with a crisp green salad!