Beef Tenderloin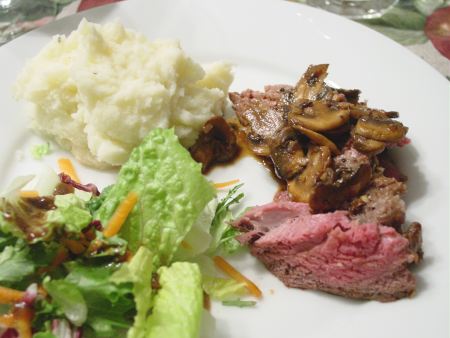 Beef tenderloin is expensive, but a piece of the fillet is easy to cook and the meat is tender and juicy. We use the same pan to saute up some mushrooms and make a pan gravy to serve on top.
Ingredients
We take the meat out of the refrigerator an hour before we want to roast the meat. Then we pre-heat the oven to 450 degrees. On the cutting board we sprinkle some of the salt on the garlic and mince it up even further. We then mix this mixture in a small bowl with the thyme and some of the pepper. The rest of the salt and pepper we sprinkle on the meat just before we saute it.
We heat a large saute pan with the olive oil and, when hot, add the fillet. We want to brown it all over, including the ends. This takes about 5 minutes over medium heat.
When the meat is evenly browned, we transfer it to a shallow baking dish and rub the garlic mixture all over the top of the fillet and place it in the oven. We roast it for about 35 minutes, checking after 25 minutes. We want the meat to be about 130 degrees for medium-rare. When done, we remove the beef from the oven and place it on a plate to rest for 10 minutes.
We heat the pan we browned the meat in and deglaze it with the stock. We scrape up the brown bits with a wooden spoon and boil this for a few minutes until it is reduced a bit. We pour this flavorful liquid through a strainer into a cup. We saute some mushrooms in the oil and butter until they have released their juices and are nicely browned. We season with salt and pepper and then add the shallots and saute for a minute. Next comes the wine. After boiling it for a minute, we add the deglazing liquid, and then any jus (juice) accumulated on the plate the meat is resting on. We heat on low for a few minutes, adding a sprinkle of dried thyme and salt and pepper, and we have our sauce for the beef.