Potato Croquettes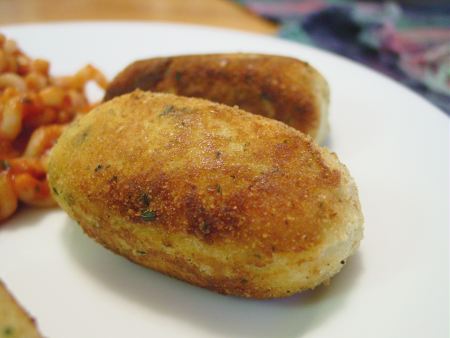 The absolute best use of leftover mashed potatoes is to make potato croquettes. We bread and fry them, making them nice and crispy on the outside, but retaining the flavor and creaminess of the mashed potatoes on the inside. You can eat them like french fries, complete with ketchup on the side, or enjoy them on their own.
Ingredients
2

cups

mashed

potatoes

1

tablespoon

fresh italian flat-leaf

parsley

¼

teaspoon

garlic powder

½

teaspoon

onion powder

3

tablespoons

Pecorino romano

cheese

(Locatelli)

1

cup

seasoned, Italian-style

bread crumbs

to taste

salt & pepper

½

cup

Shake & Blend

flour

(Pillsbury)

2

eggs

2

teaspoons

water

to fry

olive oil
We prepare the croquettes in the afternoon to allow time for the coating to adhere. In a large bowl, we put the leftover, cold mashed potatoes, parsley, garlic and onion powders, 2 tablespoons of bread crumbs, and the Locatelli cheese. We mix well and add salt and pepper to taste. We want the potato mixture to be a little over-seasoned because we still need to add an egg, after which we will not be able to taste.
We add one beaten egg to the mashed potatoes and stir well. In a small bowl, we add the other egg and the water and whisk with some salt and pepper. In another bowl we add the rest of the bread crumbs and season them with a little salt and pepper. In the last bowl we add the flour.
We pick up some of the potatoes, a little less than 2 tablespoons and roll it into a cylinder. We use "standard breading procedure" to coat. We gently pat with flour, dip in egg wash, and then coat with bread crumbs. The croquettes are very delicate, so we do this gently! We place it on a wax-paper lined dinner plate as we continue with the rest of the potato mixture, forming 12 croquettes. We refrigerate these until it is time to fry.
We pre-heat the oven to 275 degrees. In a non-stick pan, we heat 1/4-inch of olive oil. When hot, we add half the croquettes and pan-fry on medium heat, turning a quarter turn with a spatula when the bottom is brown. We continue to turn until all sides are browned, about 5 minutes total, and then we drain on paper towels. After a minute we put these on an aluminum-foil coated cookie sheet in the oven. We add a little more olive oil to the pan and continue with the rest of the croquettes. When all of them are done, we keep them in the oven to keep warm until ready to enjoy!