Black Bean Soup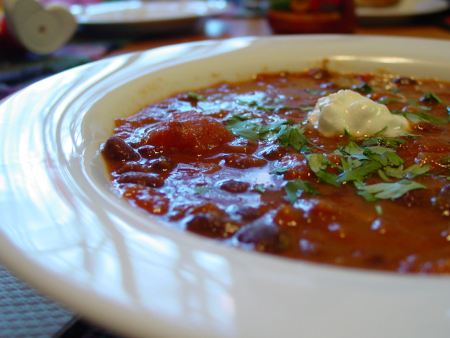 This is a wonderfully delicious, vegetarian, black bean soup. The pureed vegetables makes the soup creamy, without adding fat. Some chipotle give it a subtle smoky flavor. The soup is very satisfying as a first course or main course in a mexican-style meal.
Ingredients
In a large pot, we heat the oil over medium heat. We add the onions, lower the heat to medium-low, and sweat the onions for about 8 minutes.
Meanwhile, we chop the red pepper, yielding about 3/4 cup. We also mince the garlic with some salt to make a paste. Finally, for our prep, we open the cans of tomatoes and black beans. When the onions are softened and translucent, we add the red bell pepper and continue cooking for about 5 minutes. Then we add our garlic and stir for about a minute. Next we stir in the chipotle and the cumin. After a minute, we add the water and the juice from the can of tomatoes. With our kitchen scissors, we chop up the tomatoes in the can as best we can, and then add them to the pot. We add the dried oregano, and raise the heat to medium. We bring the soup to a boil, and then simmer it gently, partially covered, for about 5 minutes.
Meanwhile, we drain and rinse the black beans in a colander. When the tomatoes are beginning to break down, we add these to the pot, and continue to simmer for about 15 minutes or so. We then remove about 2 cups of the soup and puree it in our blender. We add this to the remaining soup and it makes the soup wonderfully creamy. We taste for salt and keep the soup on low heat until ready to serve.
When we serve our soup, we add a squeeze of lime, chopped cilantro, and a dollop of sour cream.