Chipotle Mushroom Steak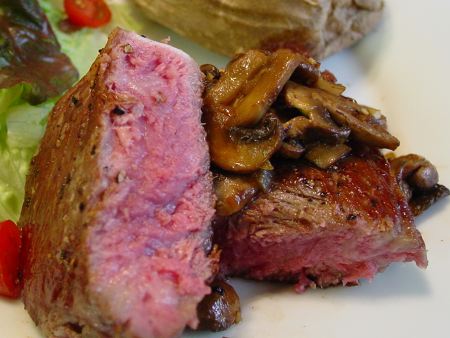 Chipotle adds a smoldering, smoky flavor to the New York strip steak. The sauteed mushrooms top off the dish perfectly.
Ingredients
2

10-ounce

boneless N.Y. Strips

steaks

salt & pepper

olive oil

1

cup

chicken

stock

1

cup

onions

4

ounces

cremini

mushrooms

2

cloves

garlic

1

teaspoon

from canned chipotles

adobo sauce

1

tablespoon

sherry
We start by removing the steaks from the fridge about an hour before we want to begin cooking them.
We heat a large saute pan over medium-high heat with about a tablespoon of olive oil. We sprinkle salt and pepper on each side of the two steaks. When the pan is hot, we put in the steaks. We cook over medium heat for 4 minutes on each side and test for doneness. We want the internal temperature to be at least 120 degrees for rare or 130 degrees for medium-rare. When the steaks are cooked to perfection, we let them rest for 5-10 minutes while we prepare a quick sauce.
We pour some chicken stock into the pan, scraping up the browned bits with a wooden spoon, and boil this for a few minutes over medium-low heat. We pour this flavorful liquid through a strainer into a cup.
We begin to saute the onions in a teaspoon of olive oil. After a few minutes, we add some mushrooms and cook until they have released their juices and are nicely browned. We season with salt and pepper and then add the garlic and adobo sauce and saute for a minute. Next comes the sherry. After boiling it for a minute, we add the deglazing liquid, and then any jus (juice) accumulated on the plate the meat is resting on. We heat on low for a few minutes, adjusting the seasoning to taste.
We serve the steaks with the chipotle mushroom sauce on top.