Pasta e Fagioli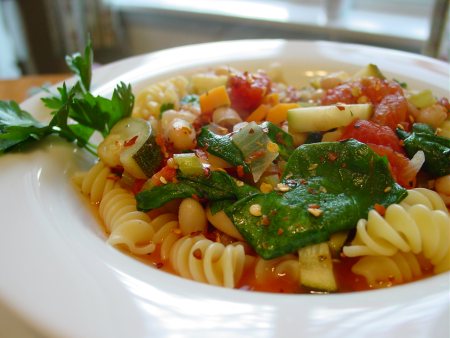 We started making this dish when we were vegetarians in Ithaca, NY (a good place to be vegetarian). It is adapted from "Sundays at Moosewood Restaurant", a wonderful book with recipes from a delicious place to eat in Ithaca. Traditionally, this is a soup with small pasta in it. Our vegetable-bean "soup" is more like a sauce on our pasta.
Ingredients
1½

tablespoons

olive oil

2

small

onions

½

cup

thin

carrots

½

cup

celery

1

medium

zucchini

4

cloves

garlic

1

teaspoon

dried

basil

sprinkle

dried

oregano

salt & pepper

28

ounces

canned plum with liquid

tomatoes

19

ounces

canned beans

cannellini

1

cup

water

6

ounces

bagged baby

spinach

2

tablespoons

fresh italian-leaf

parsley

¾

pound

rotelle

pasta

Pecorino romano

cheese

(Locatelli)

for garnish

hot pepper flakes
We begin by heating a large pot of water for the pasta and our dutch oven with the olive oil for the "sauce". We add the onions to our dutch oven and cook on medium-low heat for 5 minutes. Then we add the carrots and celery and continue to cook for another 5 minutes. Meanwhile, we quarter our zucchini lengthwise and slice it, yielding about 2 cups. We add the zucchini and cook for a couple of minutes while we mince the garlic with a little salt. Then we add the garlic, dried basil, and dried oregano. We cook for a minute and add the can of tomatoes. Using a wooden spoon, we chop up the tomatoes right in the dutch oven. Finally, we add the beans, water, and some salt and pepper. We partially cover and simmer gently for about 20 minutes.
About 10 minutes before the "sauce" is ready, we add the pasta to the boiling water with some salt. We stir and cook until al dente.
Meanwhile, we rinse the spinach (the package did not indicate it was "triple-washed") and chop the parsley. A couple of minutes before the pasta is ready, we add these to the cooked bean-vegetable mixture and taste for salt and pepper.
We drain the pasta in a colander. We spoon some pasta into each bowl and top with the "bean sauce" and some freshly grated Locatelli and hot pepper flakes. The remaining pasta we toss with a little of the sauce so it does not clump.