Grilled Salmon with Chile Honey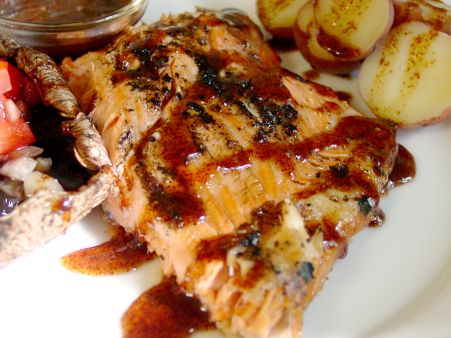 We are lucky enough to acquire Copper River Salmon from our local market today. Copper River salmon are a wild Alaskan salmon that are available only from mid-May to mid-June each year. The fillet we purchased is a beautiful deep color and, when cooked, has a wonderful flavor and texture. Of course, the recipe is also wonderful with farm-raised salmon. The chile honey sauce is adapted from Bobby Flay's "Bold American Food" and compliments the rich salmon taste.
Ingredients
1

tablespoon

Dijon

mustard

(Grey Poupon)

2

teaspoons

ancho

chile powder

vegetable oil spray

(Pam)

1

cup

clover

honey

1

pound

Copper River fillet

salmon

olive

oil

salt & pepper
We start by making the sauce for the salmon. We mix the mustard and chile powder in a ramekin. Then we spray a 1/4 cup measuring cup with a little vegetable spray and pour in the honey. The vegetable spray makes it easier to get all the honey into the ramekin. We stir our sauce and set aside.
Next, we start heating our grill. We rinse the salmon, pat dry, and remove as many of the little bones as we can. We rub it with a little olive oil and salt & pepper. When the grill is hot, we place the salmon flesh-side down onto the grill. We cook the salmon for about four minutes, then flip. After another three or four minutes, the salmon is done and we remove it to a clean plate.
We let the salmon rest for a few minutes and then cut into three pieces. We serve with the chile honey sauce.