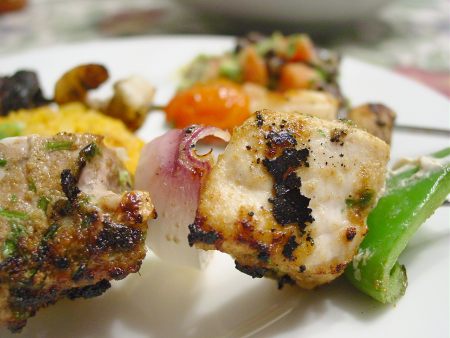 We are inspired by a good grill book to make fish kebobs for a quick, easy clean-up dinner. The swordfish is perfect for grilling, it has a firm texture and is moist and flavorful. The fish is coated with a cumin infused oil, threaded with onion and pepper, and grilled.
We start off by making the rub for the kebobs. In a medium bowl, we combine the oil, cumin, garlic, and cilantro. We stir with a small spoon, add some salt and pepper, and then set aside.
We light our gas grill and begin preheating it on high.
We cut our onion in half, discard the skin, and wedge it into 10 pieces. We rinse our green pepper and cut down two sides. We cut the slices into 8 pieces and refrigerate the remaining pepper in a plastic bag.
Next, we rinse and pat dry our swordfish. We cut the fish into 1-inch chunks, removing the skin on some of the pieces. We have 14 pieces of fish. We rub the cumin oil onto the fish pieces. We also rub a little on the vegetables.
We thread four long metal skewers, alternating with the onion, fish, and pepper. Two skewers have 3 chunks of fish, 2 of pepper, and 3 of onion, and two have 4 chunks of fish, 2 of pepper, and 2 of onion.
We put the kebobs on the hot grill and cook about 8 minutes, turning twice, or as needed, to get all pieces of fish cooked through.
We serve the kebobs with lemon.