Composed Tuna Salad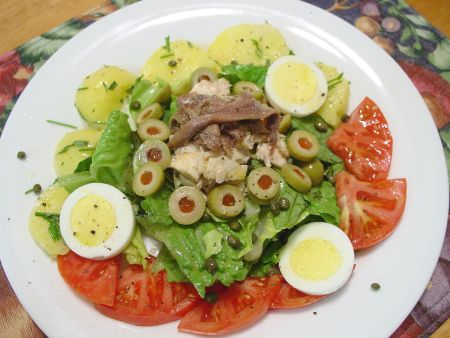 We are inspired by the classic Tuna Niçoise salad to create this main course dinner salad. We utilize ingredients we have in the fridge. We replace black olives, typical of Tuna Niçoise, with green olives. Instead of Bibb lettuce, we use leafy romaine. We make do without green beans. It is an easy, healthy, summer salad.
Ingredients
We start the preparation with the dressing. In a resealable plastic container, we combine the vinegar and mustard. With the side of our chef's knife, being careful, we crush the garlic clove and add it to the dressing. We add a pinch of salt and some freshly ground pepper and stir the dressing with a fork to dissolve the salt. We set this aside so that the flavors meld while we prepare the rest of the salad.
We slice the olives and place them in a mound on the plate. We rinse and pat dry our tomato and slice it. We quarter each slice and salt and pepper generously. We place these together on the plate, keeping the different ingredients separate.
We peel our hard boiled egg and rinse it. Using our egg slicer, we slice the egg and set the pieces aside on a plate. Next, we microwave the potato on a plate for about 30 seconds to warm and then we peel it. Using the egg slicer, we slice the potato. We place the warm slices on the plate as well.
We chop the herbs and sprinkle them into the dressing. We also whisk the olive oil into the dressing and remove the garlic clove. We put the lid on the dressing container and shake to combine well. We sprinkle about ¾ tablespoon of the dressing onto the potato slices and toss them so that the warm slices can soak up the dressing.
We are now ready to compose the salad. In a large bowl, we toss the lettuce with 1 tablespoon of the dressing. On two large dinner plates, we arrange the dressed lettuce in the center. We arrange the potato slices and tomato slices around the plate, surrounding the lettuce. We top the lettuce with the olive and egg slices. In a small bowl we toss the drained tuna with another tablespoon of dressing and place in the center of the salad. We sprinkle with the capers and add half the anchovies to each salad. The rest of the dressing is poured over the eggs first and then the rest of the salad. Additional salt and pepper (to taste) is added before we serve.