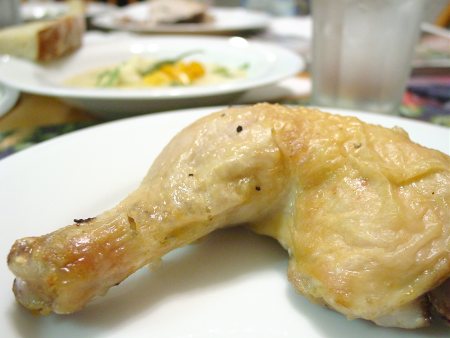 We love roast chicken! The wonderful thing about cooking it without its backbone is that the flattened chicken cooks more quickly, is easier to carve, and we can use the backbone and innards to make a quick stock. We roast the chicken with olive oil, salt and pepper, although garlic and herbs would make nice additions.
We begin by preheating the oven to 450 degrees.
We have a sheet pan ready (a cookie sheet with sides), and a medium pot nearby to make a quick stock. We have paper towels at the ready and we spread wax paper and foil on our cutting board for ease in cleaning up (although the cutting board is still sterilized).
We use our kitchen scissors to open the bag of chicken in the sink and rinse it. We pat it dry with paper towels and place on the wax-papered cutting board. We put the rinsed innards (excluding the liver, which we discard) into the pot to make a quick stock. We use our scissors to remove the backbone and add to the pot. We flatten the chicken, removing some of the excess fat for the stock pot. We put the chicken on the sheet pan, skin-side up, and wash our hands thoroughly.
We cover the stock pot with water and start heating on the stove. When it comes to a boil, we lower it to a bare simmer and skim the bubbles and foam to a plate with our "skimmer" while the chicken roasts.
Meanwhile, with clean hands, we pour the oil onto the chicken and sprinkle liberally with salt and pepper. Then we rub it in, turning the chicken over and making sure that some of the oil and seasonings reaches the other side. We turn it back so it is skin-side up. We wash up again.
We roast the chicken for 50 minutes, rotating the pan in the oven halfway through the cooking time. We remove the nicely browned chicken from the oven, take the temperatures of the white and dark meat (170° F for breast, 180° F for leg-thigh joint), and let rest.
We carve the chicken on a clean cutting board and serve.