Baked Eggs in Phyllo Cups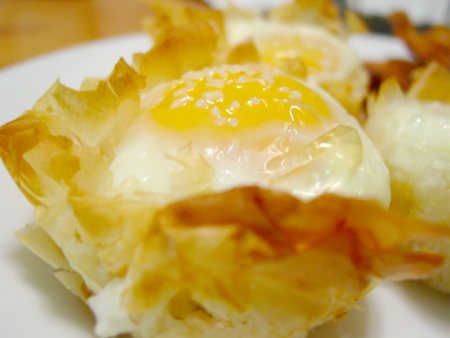 We are inspired by a Sara's Secrets brunch episode to bake eggs rather than frying or scrambling. We replace the ham that was used as the container for the eggs in the show with phyllo dough. The result is a vegetarian egg dish that is impressive and easy.
Ingredients
vegetable cooking spray

(Pam)

2

tablespoons

unsalted

butter

6

sheets

phyllo dough

6

extra-large

farmer's market fresh

eggs

salt & pepper
We begin by pre-heating the oven to 425 degrees. We get out our 12-cup muffin tin and spray with the vegetable spray.
We melt the butter in a small prep bowl in the microwave. We unroll the defrosted phyllo dough and place one sheet on our wax paper covered counter. We cover up the dough that we are not working with so it does not dry out. Using our pastry brush, we brush quickly with the butter. We tear off a two inch width of the sheet. The rest we fit into one of the cups of the muffin tin – mostly worrying about covering up the sides. We fold the two-inch piece width in quarters and fit in the bottom of the same muffin cup. We repeat with the other five sheets of dough, fitting them into every other cup of the muffin tin.
We break each egg carefully into each phyllo-filled muffin cup and bake in the oven for 10-20 minutes depending on how runny or well-cooked we like the yolks. We remove the baked egg with a small offset spatula when it is the desired doneness.
We serve the baked eggs sprinkled with salt and pepper.