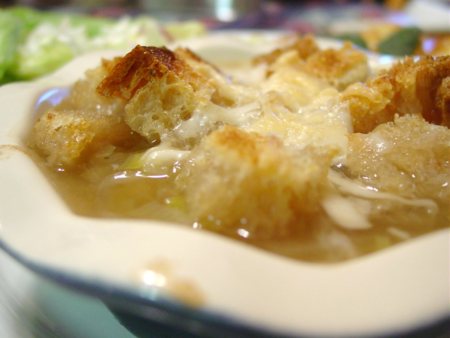 We utilize some of our homemade turkey stock, leftover turkey, croutons, and gruyère cheese, in an Onion Soup that is tasty and filling.
We start by cutting the ends off the red onion, then cut it in half, and peel. We slice the onion and add to a large pot with the butter. We start cooking over medium heat while we peel, halve, and slice the yellow onion and shallot. We add these to the pot, stir, and lower the heat to medium-low.
Next we trim our leek, keeping only the tender light part, and slice. We put these in a large bowl filled with water and swish around to allow the sand to fall to the bottom of the bowl. We lift the leek pieces out to a dinner plate, refill the bowl with clean water and repeat. When the leeks are clean, we lift them out, pat dry with paper towels and add to the cooking onions. We season with salt and pepper, raise the heat to medium, and cook until the vegetables are tender and the onions are getting carmelized (about 5 more minutes).
We add the stock, bring to a boil, and simmer for 5 minutes to meld the flavors. We add the turkey and heat through.
Meanwhile, with our box grater, we grate about ½ cup cheese.
We divide our hot soup between three individual baking dishes, top with some of the croutons, and some of the gruyère cheese. We put the three dishes on a cookie sheet and put under the broiler for a few minutes until the cheese is melted and bubbling.
We are careful to remove each soup to a serving plate with a pot holder, and enjoy.