Easy Cheese Fondue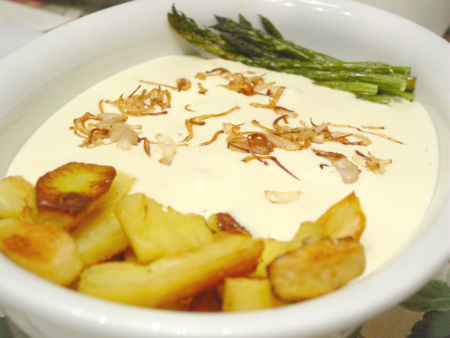 We are inspired by an old Bon Appetit recipe to vary our traditional wine-based cheese fondue to an easy cream and cream cheese based version. It is easy to mix the cheeses together and the flavor of the different cheeses meld nicely.
Ingredients
We start by heating the oil in a medium pot over low heat. We halve and peel our shallot and mince half of it, yielding about a tablespoon. We thinly slice the rest of the shallot.
We add the minced shallot to the oil and cook over medium-low heat, stirring occasionally, until the shallot is softened. We add the cream, cream cheese, and the grated cheeses and whisk. We continue to whisk and heat until the mixture is smooth and hot. We grate in a little nutmeg using our microplane, thin with a tablespoon more of the cream, and season with salt and pepper. We keep the cheese fondue over low heat while we ready the garnish.
We heat two inches of canola oil in our Dutch oven until it reaches 360° F. We lightly sprinkle the sliced shallot with flour and fry for a minute in the hot oil until golden brown and crispy. We drain with our spider and place on a paper-towel lined plate and sprinkle with salt.
We serve the cheese fondue in a large chafing dish with roasted asparagus, roasted potatoes, bread cubes, and hot giardiniera.