An Asian Salmon Meal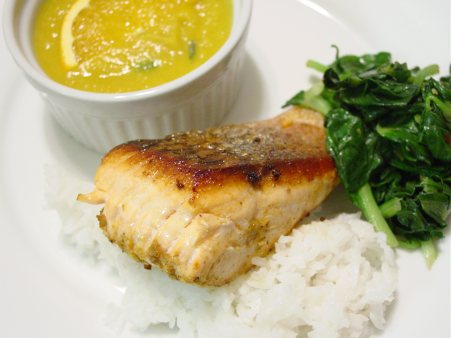 We welcome Sarah back with a multi-course asian-themed meal. We introduce two new recipes in this meal, but we do so in a meal centered around one of our old favorites –
gingered curry salmon
. We also serve two other family favorites – edamame and white rice – both of which the kids absolutely devour.
We usually shy away from trying a new dish with company. We break that rule (twice) tonight for two reasons: we're familiar enough with Sarah's tastes that we have a reasonable amount of confidence that she'll like the new recipes, and the meal is centered around a tried-and-true recipe.
Our bravado is rewarded handsomely in this meal as both new recipes are wonderful. Even Chris, not normally one for soups, loves the carrot-orange soup. The flavors of the various ingredients combine wonderfully to complement the rest of the meal. The tatsoi serves as a simple side dish. Its modestly bitter flavor reminds us of the chard that we enjoy in so many of our italian meals. The slight bitterness serves as a counterpart to both the sweetness of the soup and the succulence of the salmon.
When we say the kids devour the edamame, we're not exaggerating. Our daughter adores these soy beans – partly because of the taste, partly because of the experience of squeezing the beans out of the shells. Our boy is a little too young to squeeze the beans out himself, but is perfectly capable of eating the beans faster than we can squeeze them out, all the while calling out, "More! More!".