Leftovers Before Thanksgiving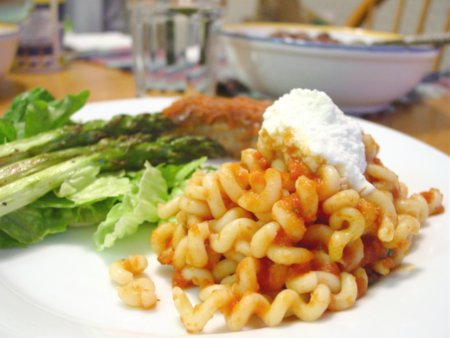 We couldn't quite finish all of last night's dinner. We do so tonight. We also continue to get ready for the big day tomorrow with a preview of the salad that we'll be serving (an asparagus shallot vinaigrette).
We roast the asparagus for the salad tonight. We'll make the dressing tomorrow – tonight, we dress the salad with balsamic vinegar, drizzled over the salad and the asparagus. We also roast filberts for the meal tomorrow, and enjoy a few with dinner.
The rest of the meal consists of last night's fusilli and two leftover sausages. It's a good, simple meal – perfect for the night before Thanksgiving. We're starting to get nervous about all that we need to do, so it's comforting not to have to worry much about dinner tonight.