Chicken, Potatoes and Pasta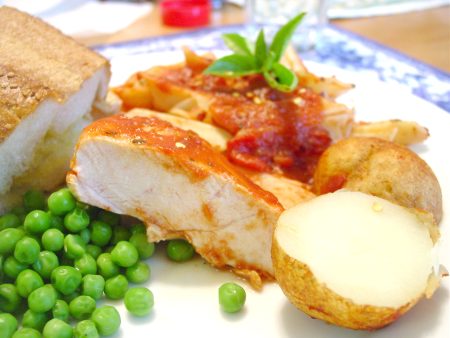 We enjoy a traditional Sunday late afternoon dinner—something we really should do more often. The centerpiece of today's meal is a pasta dish topped with a hearty tomato sauce. That may sound rather ordinary, but, cooked with both chicken and potatoes in it, the sauce is as interesting as it is tasty.
We spent the morning at the fair. We had wanted to go last week, but we have been so darn busy, what with school starting and all.
The baby could have had a better time. She very much wanted to stay with her older siblings. Some french fries and a ride on the merry-go-round eventually satisfied.
The older two had themselves a blast. The consensus appears to be that the fun house was the best ("it has to be fun—they call it the fun house"). Both also seemed to enjoy the ferris wheel. Our son is getting older—last year he was quite afraid.
In the afternoon, Robin and our daughter went out shopping. They spent entirely too much. Our daughter is also apparently getting older.
We spent yesterday up in New Jersey, where Andy and Monica held a nice Labor Day cookout for the family. There was much food and family—Jeff, Nick, the cousins, Brandon and Tyler, all were there. Even Nanny and Gramps came down from Brooklyn.
Seeing Nanny and Gramps partially inspired this meal. The visit and the bread Nanny brought along for us.
Had a very nice time. Perfect weather. Good driving conditions. Gramps took a spill though. Despite his 86 years, he got up on the trampoline with Tyler. Before anyone realized he had gotten up there, he flipped off onto the ground. Amazingly, he was fine (just a little sore). Everyone will keep a closer eye on him the next time he is around trampolines.