Biscuits and Gravy with Leftover Fried Chicken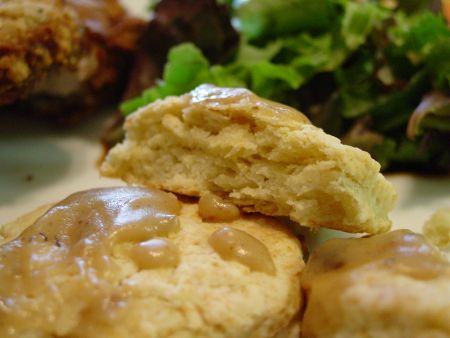 We were first introduced to biscuits and gravy by Chris's late grandfather. When visiting, he would often take us to some local (Indiana) eateries. Being city folk, we felt compelled to inquire about the perpetual special called "1/2 B&G". He explained that it was half a biscuit and gravy, and it's been a family favorite ever since. It may not sound like the most appealing meal at first, but with the right gravy (and last night's gravy was the right gravy), it's fabulous!
Ingredients
1

cup

all-purpose

flour

2

teaspoons

baking powder

1

teaspoons

baking soda

5

tablespoons

chilled and cut into pieces

butter

2

tablespoons

melted

butter

1

cup

plus an additional tablespoon

buttermilk
Preheat the oven to 425 degrees.
We start by combining the flour, baking soda, and baking powder in a food processor. We then add the chilled butter and pulse until mixture resembles cornmeal with a few larger beads of butter. We turn the mixture out into a medium bowl and add the buttermilk, stirring with a fork until the mixture is just wet and coming together to a ball.
We remove the dough from the bowl, placing it on a flexible cutting board (a plastic sheet that doubles as a cutting board for smaller chopping needs). We knead the dough briefly and gently roll it out into a circle that is approximately a half inch in height. We cut circles from the dough that will form the biscuits. Since we don't have a 2 iinch biscuit cutter that will cut reasonable sized biscuits, we improvise with a drinking glass, placing it upside-down on the dough.
Each biscuit is placed onto a parchment-lined cookie sheet. We prick the tops with the tines of the fork three times, and brush with the melted butter. We then place the sheet into the pre-heated oven. We bake the biscuits for 12 minutes (until they are golden brown and have risen slightly).
We heat the gravy from last night, adding some skim milk to thin and color it, and adjust the salt and pepper. Serve over the biscuits!