Spinach and Garlic Pasta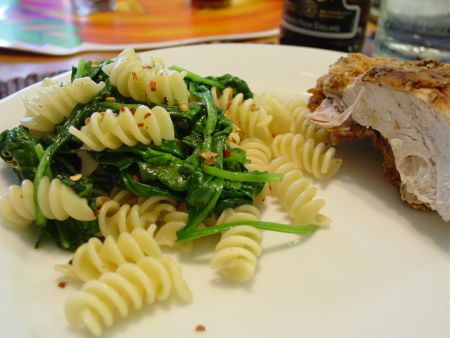 On Sundays, we usually try to have a large, early meal. Today, however, we went simple. We still had leftover fried chicken, which this pasta complemented well. The preparation was simple, which allowed us to eat a nice meal in a short amount of time (so we could go to Moxley's for ice cream).
Ingredients
We clean the spinach by soaking it in the bowl of the salad spinner filled with water. We remove the leaves from the water, placing them into the spinner's strainer. We then dump all of the water from the salad spinner bowl and spin the spinach dry.
We fill a large pot with water to boil the water. We place it on the stove over hight heat, cover it, and bring it to a boil. Once the water boils, we salt the water and add the pasta. We are sure to stir the pasta right away to avoid clumps!
We place a frying pan on the stove over medium heat. We add the oil and minced garlic and cook it over low heat. After a few minutes, when we smell the garlic and it is golden, we add the spinach. The spinach reduces significantly in size as it sautees. Once the spinach has finished reducing, we add some salt and pepper and remove the pan from the heat.
One the pasta is finished, we drain it and put it into a large bowl. We toss it with the spinach, adding the lemon juice, zest, hot pepper flakes and adjusting the salt and pepper. It is served hot with Locatelli romano cheese.