Pear and Blue Cheese Salad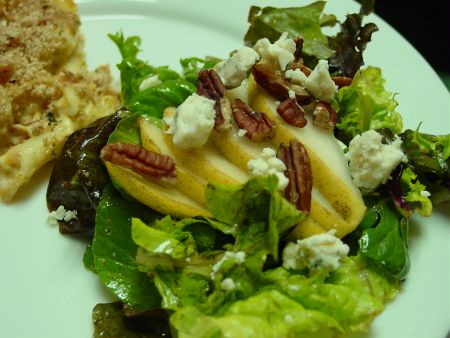 This salad goes nicely with the macaroni and cheese from last night. Preparation is easy, but the combination of the sliced pear and the blue cheese make this a rather exotic complement to any meal.
Ingredients
2

cups

mesclun

1

cup

pecans

1

teaspoon

Dijon

mustard

(Grey Poupon)

1

teaspoon

sherry wine vinegar

1

tablespoon

extra-virgin

olive oil

to taste

salt & pepper

1

Anjou

pear

3

tablespoons

blue

cheese

(Maytag)
We start off by washing the mesclun lettuce, any remaining lettuce is easily stored in a resealable plastic bag in the fridge. Then we toast the pecans in a small baking dish in a pre-heated 350 degree oven for a few minutes until they are fragrant. We set these aside to cool.
In a one-cup measuring cup, we start on our dressing. We mix the mustard, sherry wine vinegar, and a little salt with a fork. Then we slowly add the oil in a stream whisking to get it creamy. We finish it off with some pepper.
When it's almost time to eat the salad, we wash and thinly slice a pear. We toss the dressing with the mesclun and on each plate we sprinkle the mesclun with the cooled pecans, blue cheese pear slices.