Cajun Black-Eyed Peas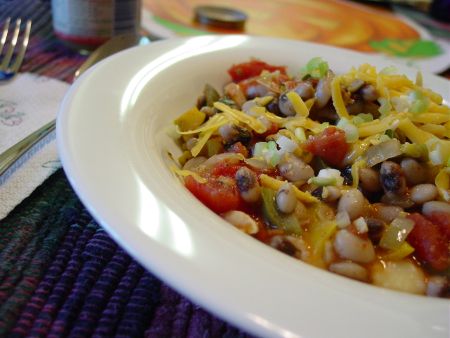 Fresh black-eyed peas from the local farmer's market really dress up this meal. The cajun preparation and cheesy grits make this a nice southern meal – the perfect comfort food for a Monday!
Ingredients
We bought two pounds of fresh black-eyed peas yesterday at the downtown Baltimore's farmer's market.
This afternoon our daughter helps pick over the peas, wash them, and put them in our dutch oven. We cover them completely with water, then add an additional two inches of water. After bringing the pot to a boil, we partially cover them and simmer for about an hour. When they are tender, we drain them and reserve them for tonight's meal.
We wash the dutch oven and saute the onions in the oil for a few minutes. We add the celery, bell peppers, and garlic and continue to cook on medium heat for about 10 minutes. We them add the thyme oregano, salt, pepper and cayenne and cover the mixture for a few minutes. When the vegetables are tender and the onions are browned, we add the can of tomatoes and honey and simmer for a few more minutes. When it is almost time to eat, we add the mustard, peas, basil, and adjust the salt and pepper. The two pounds of peas is more than enough for this dish. The extra we reserve for the children. We simmer the finished mixture for a few minutes and serve it over cheese grits and topped with scallions and cheese.