Macaroni with Cheese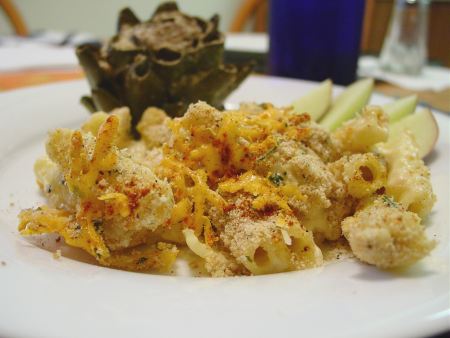 Does anything say Halloween better than macaroni and cheese? Well, probably. Still, this meal got us good and ready for some trick or treating.
Ingredients
We pre-heat the oven to 350 degrees.
We had prepared the pasta on Monday. To prevent the pasta from becoming a big clump in the refrigerator, we mixed it with a little oil.
In a medium pot, we melt the butter over low heat. We add the flour and cook for three minutes, stirring often. This butter-flour mixture is known as a roux.
We heat the milk in the microwave on full power for a minute and a half. We whisk the heated milk into the butter-flour mixture and increase to medium heat, stirring often until it comes to a boil. We add salt and pepper and a dash of nutmeg. We then remove it from the heat and add all but 2 tablespoons of the shredded cheddar. The sauce is added to the pasta and put into an 8-inch square baking dish.
The bread crumb mixture, reserved cheddar and paprika are sprinkled on the pasta and the dish is baked uncovered for about a half hour. We want the macaroni and cheese to be bubbling and the topping browned.