Shrimp Pasta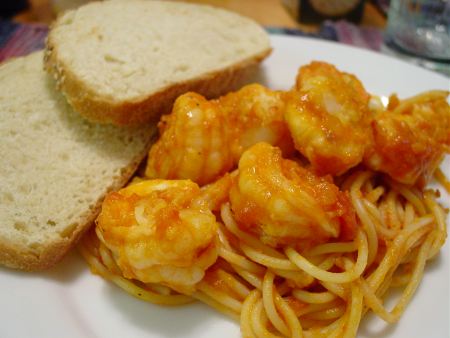 Rao's sauce makes a wonderful base to this recipe. We pan fry the shrimp to seal in the flavor and add it to the sauce to keep it moist and tender.
Ingredients
We begin by heating a large pot with water for the pasta. After defrosting the shrimp in the refrigerator overnight, we prepare the shrimp by peeling it under cold water. We also de-vein it (it was supposed to be already de-veined, but was not perfect). After rinsing the shrimp under cold water we store the shrimp on ice until ready to saute.
When we put the pasta into the boiling water, we heat 2 tablespoons of the olive oil in a dutch oven on medium heat until hot. We pat the shrimp dry with paper towels, dip the shrimp in the flour, coating evenly. We saute half of the shrimp for three minutes, turning to cook evenly. We remove the almost-cooked shrimp to a clean plate, and then saute the remaining shrimp, again for three minutes. We then put all of the shrimp into the dutch oven and add 1 cup of the sauce. We continue to heat over medium heat for 2-3 minutes until the shrimp is cooked through.
We serve over pasta with hot pepper flakes, to taste.