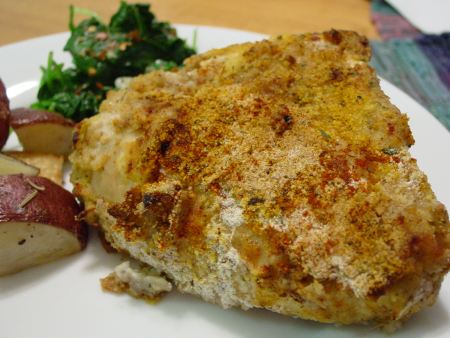 The taste is a little like fried chicken, but without all the fat. The spices adhere to the chicken coated with buttermilk, which also make the chicken just a little bit juicier. Living in Maryland, we had to use a little Old Bay to spice things up a bit.
We rinse the chicken and take off the skin from the breasts. We put the 3 breasts into a gallon size resealable plastic bag. In a large measuring cup, we mix the buttermilk with the salt and pepper. We pour the buttermilk mixture over the chicken, seal it, and refrigerate the plastic bag inside a large mixing bowl. We then thoroughly wash our hands, though we have been washing them every step of the way to this point. We disinfect the counter (have we mentioned that we are fanatical about keeping our hands and work areas clean when working with chicken or meat?) and let the chicken marinate for 2 hours.
We pre-heat the oven to 400 degrees.
In another gallon size resealable plastic bag, we combine the breadcrumbs, flour, Old Bay seasoning, garlic powder, thyme, oregano, some freshly grated pepper, and a sprinkle of cayenne. We cover a large cookie sheet with aluminum foil and spray with some vegetable spray.
Retrieving the chicken from the fridge, we use tongs to drop a piece of chicken into the flour-crumb mixture, seal, and shake to combine. After removing the coated chicken from the flour-crumb mixture, we put it on the cookie sheet(skinned-side up) and continue with the other pieces of chicken. When the chicken is all coated we discard the buttermilk and flour mixtures. We sprinkle the chicken pieces with paprika, spray them lightly with vegetable spray, and put the pan in the oven.
We cook for 20 minutes, turn with clean tongs, cook for another 20 minutes, and cook for another 10 minutes or so. We want the chicken to be browned and cooked through. We let the pieces rest for a few minutes and enjoy!