Buffalo Chicken Sandwich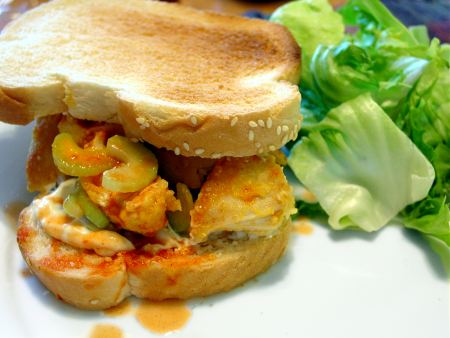 This is our version of "buffalo wings", inspired by a caller to Sara Moulton's Cooking Live program. It is a tad healthier than restaurant, and makes a nice sandwich. Instead of deep-frying chicken wings, we pan-fry boneless skinless chicken breasts. We cut way back on the butter, and use reduced fat mayo and sour cream in the sauce.
Ingredients
We begin by making the blue cheese sauce. In a ramekin, we combine the sour cream and mayo. We add the blue cheese and a little pepper and stir it in well with a fork. We cover and refrigerate until it is time to eat.
We put the flour into a bowl lined with wax paper. We add some salt and pepper and mix. We rinse the 2 chicken breasts and cut each into 11 pieces with kitchen scissors. We want roughly the same size chunks. We pat them dry with paper towels and put them into the bowl of flour. Using the wax paper, we toss the chicken pieces around to coat each piece.
Meanwhile, we heat our non-stick pan with the oil over medium heat. When hot, we add the chicken. We use our chinese strainer to pick up a handful of chicken pieces, shake out the excess flour, and gently place into the pan.
We cook for about 8 minutes, turning as necessary to ensure even browning. When the chicken is done, we put the pieces on a paper-towel lined plate to drain. The pieces of chicken seem a little too large for a sandwich, so we cut them in half and put them into a serving bowl. We heat the butter in a cup in the microwave for 15 seconds. We add some hot sauce to the cup (today we used Tabasco but in the future we may try Frank's hot sauce), and pour this on the chicken. We toss in the celery and add salt and pepper to taste.
Meanwhile, we toast the bread. When ready to serve, we coat each piece of bread with some of the blue cheese sauce. Place the chicken on 3 of the pieces of bread, drizzle with more hot sauce to taste, and top with the remaining bread.