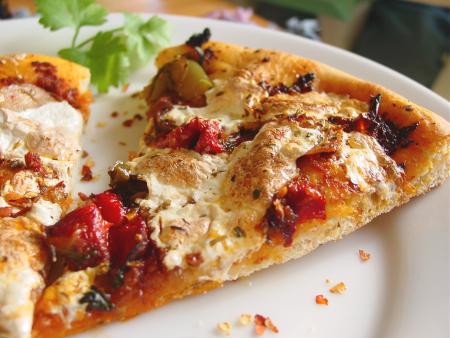 One of the keys to making a good pizza crust is to make sure that it is not too wet after it has had some time to rise. This crust dough is very moist after it finishes rising, but not so much so that it's hard to handle. It also has a very nice texture.
We begin making our dough by combining the water and the yeast in a measuring cup. After about 5 minutes, when the mixture is bubbling and foamy, we add the yeast mixture, salt, olive oil and 2 1/2 cups of the flour to the mixing bowl of our Kitchen Aid. Using the bread hook we mix on low for a minute.
We knead the dough with our machine, on speed 2, adding additional flour as necessary. The dough should be slightly sticky, but should be able to pull off of your hands. We add a little over 3 cups of flour, a little at a time, and this takes about 7 minutes. We want the dough to be smooth and elastic.
We then place the dough into a well greased bowl and turn the dough in the oil. We cover with plastic wrap and let rise for about 1 hour in our microwave to be draft-free. We want the dough to be doubled in size.
As soon as the dough is set aside to rise, we pre-heat the oven to 450 degrees to get our pizza stone nice and hot.
When the dough is ready, we remove the dough from the bowl and punch it down. We separate the dough into two balls. Each ball is spread into a flat circle on a pizza peel that is covered with half the cornmeal and a sprinkling of salt. Prior to putting the toppings on the dough, we give the peel a good shake to make sure that the dough will slide off when we put it into the oven.
The pizzas are cooked on the pizza stone for about 15-20 minutes (until the cheese is bubbling and the bottom of the crust is browned).