Tomato Pesto Pasta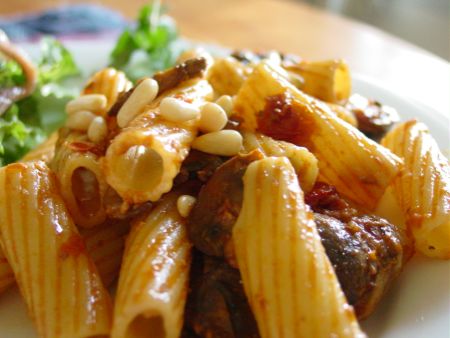 We use a store bought tomato pesto to make this quick dish. The term "pesto" may be getting used loosely here – there isn't much basil, if any in the sauce. The basic principle is there, though. Sun-dried tomatoes are chopped and mixed with oil. We add a few other ingredients that we had lying around and enjoy a very interesting and tasty dish.
Ingredients
3

pound

rigatoni

pasta

1

teaspoon

olive

oil

4

ounces

white button

mushrooms

1

cup

frozen

pine nuts

1

cup

sun-dried tomato

pesto

(Trader Joe's)

Pecorino romano

cheese

(Locatelli)
We start by pre-heating the oven to 350 degrees.
We put a large pot of water on the stove and heat it for the pasta. We spread the pine nuts on a cookie sheet in one layer and when the oven is ready, we cook them for about 5 minutes. We want them golden and fragrant.
Next, we heat the olive oil in a pan over medium heat and add the mushrooms. We saute until tender and the mushrooms have released their liquid. We add salt and pepper and keep on low heat until we are ready to serve.
When the pasta water comes to a boil, we add some salt, and the pasta, and cook until al dente. We take out about a cup of pasta water to use if needed.
When the pasta is done, we drain it in a colander. We pour the pasta into the mushroom pan, raise the heat to medium, and add the tomato pesto and a little pasta water. We stir to coat and add more water to help the pesto spread over all the pasta. We top each serving with the toasted pine nuts and cheese.