Cajun Shrimp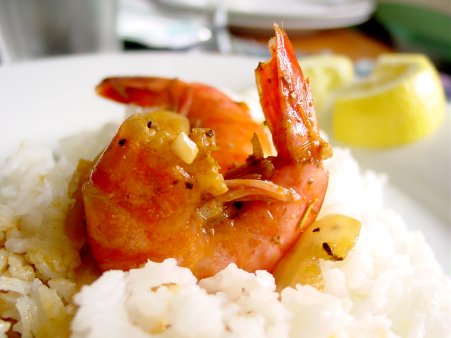 This recipe is adapted from "Moosewood Restaurant Cooks at Home". It falls into the category of easy to prepare yet very elegant in presentation and taste. The cajun flavor really comes through in this recipe. The shrimp are served with their shells over cooked white rice so don't forget lots of napkins!
Ingredients
3

tablespoons

butter

4

tablespoons

olive oil

1

medium

onion

2

teaspoons

minced

garlic

1

teaspoon

dried

thyme

1

teaspoon

dried

rosemary

1

teaspoon

ground black

pepper

1

teaspoon

cayenne powder

2

teaspoons

sweet

paprika

1

pound

jumbo, uncooked, deveined, with shell-on

shrimp

(Trader Joe's)

2

tablespoons

Worcestershire sauce

1

cup

Sauvignon blanc

wine

2

tablespoons

lemon juice
We heat the butter and oil over low heat in a large pan as we put the thyme, rosemary, pepper, cayenne, and paprika in a small prep bowl. When the butter has melted, we add the onions and cook for 10 minutes over medium-low heat. When the onions are golden and softened, we stir in the garlic. After a minute we add the spices and the shrimp and cook over medium heat. We stir often and after about 5 minutes, when the shrimp are almost cooked through, we add the Worcestershire sauce, wine, and lemon juice. We cook for another minute or two and serve over cooked rice.