Triangle Grits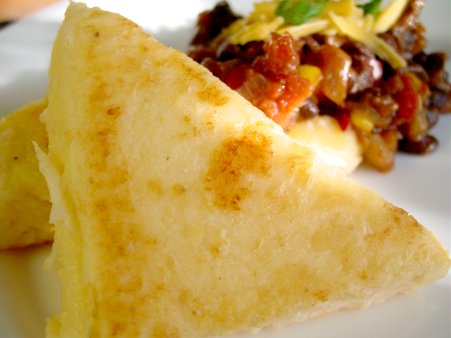 This is similar to polenta cakes. We use leftover cheesy grits to panfry triangles of grits. They get a thin crispy coating with the creamy cheesy grits inside. This is a nice with a chipotle black bean chili.
Ingredients
leftover

cheesy grits

all-purpose

flour

2

tablespoons

olive oil
We begin by removing our leftover cheesy grits from the fridge. It had been spread in a 8 × 8 inch glass pan and covered with plastic wrap last night. Tonight we cut triangles out, 2 per person, using only half the leftover grits. We pat the triangles dry with paper towels. We pour some flour on top of the grits on a plate and coat all sides.
We heat our large non-stick pan over medium heat with the olive oil. When the oil is hot, we add four triangles and panfry for a few minutes on each side. We want the triangles golden brown and crispy.