Mu Shu Vegetables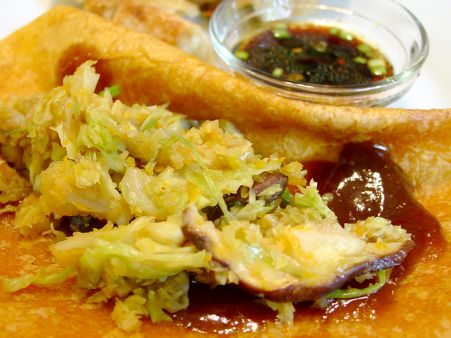 This asian recipe was inspired by the May 1996 "Martha Stewart Living" magazine. We had adapted the recipe back when we were first married and vegetarian and we still enjoy it without the pork! Instead of making the traditional pancakes, we use store-bought flour tortillas.
Ingredients
We begin by making our sauce. In a measuring cup, we combine the soy sauce, sherry, sugar, sesame oil, and some pepper.
Next we remove the stems from the shitake and discard. We wipe the mushrooms clean and slice them thinly. To save time, we use our food processor to shred the cabbage and carrots. We core the cabbage and cut it into wedges that will fit into the feed-tube of our food processor. Using the shredding attachment to our processor, we shred the baby carrots and the cabbage, a little at a time, through the feed-tube.
When all the ingredients are prepped, we heat the vegetable oil over medium-high heat in a large pot. When hot, we add the ginger, mushrooms, cabbage, and carrots. We stir-fry for a few minutes and then add the scallions and soy-sherry sauce. We lower the heat to medium and cook stirring often for a few minutes until the vegetables are tender.
We heat the tortillas in the microwave on a dinner plate between dampened paper towels for 45 seconds. We spread hoisin sauce on a tortilla, top with mu shu, and roll up.