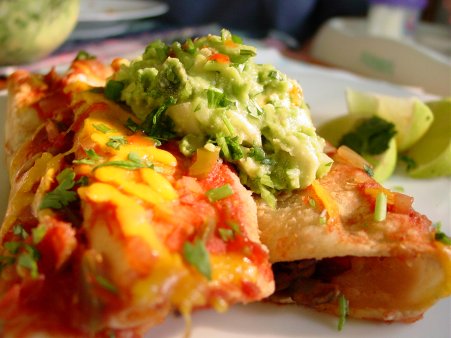 These enchiladas are similar to ones we've made before, but with less pots and more vegetables that were lying around the fridge. This is a great vehicle for leftovers!
We pre-heat the oven to 375 degrees.
We heat 1/2 tablespoon olive oil in a large pot on medium-low heat. We add the chopped onion and saute for a few minutes. Meanwhile, we chop the red bell pepper, yielding a little over 1 cup. We add this to the cooking onions, along with the minced garlic. Next, we chop the mushrooms and stir these into the cooking vegetables. We raise the heat to medium and cook for a few minutes to allow the mushrooms to release their liquid. We stir in the chile powder and cumin. After a minute or so when the spices and are fragrant, we add the frozen corn and black beans. After a few minutes, we turn off the heat and add the juice from half a lime.
In the microwave, we steam the corn tortillas on a plate between two pieces of dampened paper towels. We microwave them for a minute and a half at full power.
We spray a 9×13 inch baking dish and an 8×8 inch baking dish with some vegetable spray. We take a corn tortilla, keeping the rest covered with the paper towel, and put about 3 tablespoons of the bean mixture down the center. We add some cheese, roll it up, and place it in one of the baking dishes seam-side down. We repeat with the remaining tortillas, filling the two baking dishes.
We have a little bean mixture left, so we spoon this on top of some of the enchiladas. We spoon some picante sauce over all the enchiladas, using the entire jar. We top with the reserved cheese. We cover the casseroles with aluminum foil and put them in the oven for about 20 minutes.
We serve with the cilantro, salsa, hot sauce, lime wedges, and sour cream.