Scallion Herb Frittata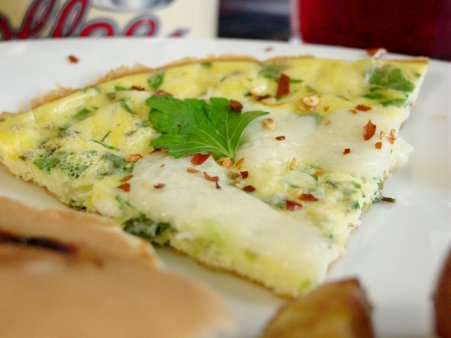 A frittata is an omelet that is not folded. We use fresh herbs from the garden and scallions to flavor the eggs for a tasty side dish to a "breakfast dinner."
Ingredients
We pre-heat the oven to 400 degrees.
We heat up our 10 inch non-stick pan (a pan that is oven-safe) with the butter over medium-low heat. We add the scallions and cook, stirring occasionally until wilted.
Meanwhile, we beat the eggs, salt, pepper, milk, and herbs in a medium bowl with a fork. When the scallions are cooked, we pour the egg mixture into the pan. We cover the pan with aluminum foil and cook until the top is starting to set and the bottom is brown. This takes 5-10 minutes.
Using a heat-safe rubber spatula, we make sure the frittata is not stuck to the pan. We then top with the mozzarella and Locatelli and place the pan, without the foil, in the oven and cook for another 5 minutes. We want the frittata to be cooked through and the cheeses melted.
We carefully take the pan out of the oven with a pot-holder and slide the frittata onto a serving plate. We cut into wedges and enjoy.