Roasted Pumpkin Seeds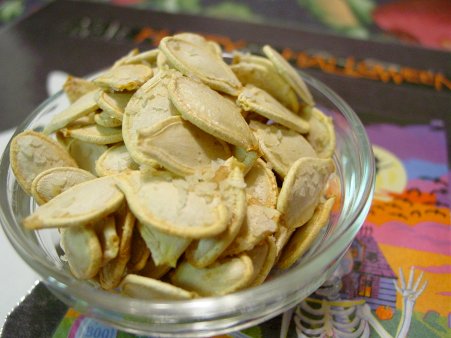 Whenever we cut open a winter squash or even our Halloween pumpkin we save the seeds! We slow-roast the pumpkin seeds simply with canola oil and salt for a delicious snack.
Ingredients
1

large

big jack-o-lantern

pumpkin

1

tablespoon

canola

oil

kosher

salt
We start by carving our jack-o-lantern. We scoop out the seeds, we have about a cup and a half, with some pulp attached to a large bowl. When we are done carving, we rinse the seeds by covering them with water in the bowl and then scoop out the seeds to a colander (trying to leave behind any pulp).
We spread the seeds out in a single layer on a parchment paper lined cookie sheet to dry for an hour or two.
We pre-heat the oven to 300 degrees. We remove the parchment paper and seeds and put the canola oil on the cookie sheet. We mix the seeds with the oil, discarding the parchment paper, and spread them out in a single layer. We sprinkle the seeds with kosher salt and bake for 40 minutes. We want the seeds golden and crunchy.