Fruity Honey Yogurt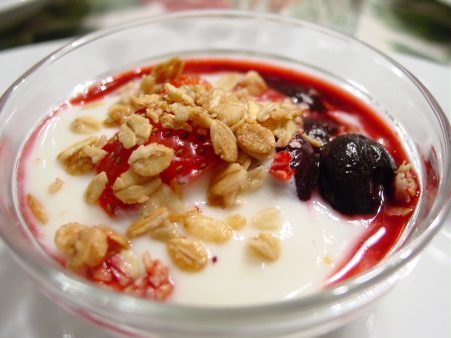 This is a delicious, healthy, snack or brunch item. We use plain yogurt that we flavor with honey, but any yogurt can be substituted as long as the quantity of honey is adjusted, and any fruit can be layered. This is pretty in goblets or just in small custard dishes.
Ingredients
We start by taking out the frozen berries and let them defrost on the counter in a bowl. We are making a big brunch, so they have about 45 minutes to defrost. If we were in a rush we would defrost them in the microwave.
In a medium bowl we mix the yogurt with 1 tablespoon of honey and taste with a different spoon. We add a little more honey until it is sweet enough for us.
In small custard cups, we layer the yogurt and berries and strawberries. We top with more strawberries and some granola.