Peppercorn Filet Mignon with Mushrooms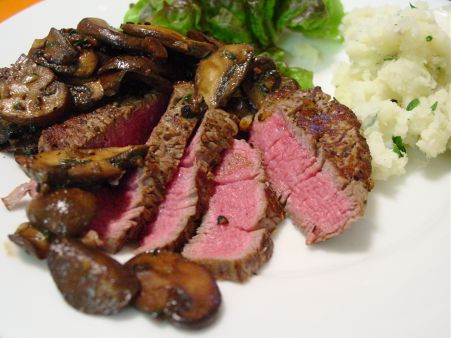 Once in a while we are in the mood for a delicious steak dinner. Filet mignon is a tender, leaner, piece of meat and it is greatly enhanced with a peppercorn crust. We top the steaks with a mustardy mushroom sauce.
Ingredients
We start by taking the two steaks out of the fridge. Next we prep the ingredients for the sauce. We mince the garlic, getting about a tablespoon. We clean and slice the mushrooms.
Next we put the black peppercorns into our mortar and pestle and crush. (In the past we have used a resealable plastic bag and crush them with a heavy pan). We want coarse peppercorns to sprinkle on the steaks.
We heat our large saute pan over medium heat while we oil the steaks with about a teaspoon of the olive oil and then generously salt and pepper the steaks. We add another teaspoon of the oil to the pan and, when hot, we add the steaks. We cook for about 2 minutes per side, also holding the steaks up with tongs to get the edges browned. We want the meat to be about 130 degrees for medium-rare, but we take them out while they are still rare since the peppercorns are beginning to burn on the bottom of the pan. We remove the pan from the stove, remove the almost-done steaks from the pan, and then place them on a plate to rest for about 5 minutes while we make the sauce.
We place the pan we browned the meat in back over medium-low heat and add the water, stirring up the browned bits with a wooden spoon. We stir for about a minute and, taking the pan off the heat, we add the dry sherry. We replace the pan on the stove and boil for a couple of minutes. We pour the gravy into a measuring cup while we cook the mushrooms. We saute the mushrooms for a few minutes over medium heat with the rest of the olive oil and, when they are tender and have released their liquids, we add the garlic. We stir for a minute and then add any jus (juice) accumulated on the plate the meat is resting on. We add the steaks back to the pan and cook for another couple of minutes until they are done to our liking. We remove them to the serving plates and add the gravy, parsley and mustard to the pan. We heat on low for a few minutes and we have our topping for the steaks.