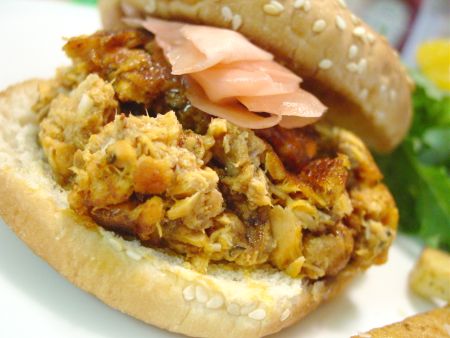 A guest chef on a recent episode of Sara's Secrets made tuna burgers with a ginger-mustard glaze. He used fresh tuna which was ground into a "burger". Fresh tuna makes some of us skittish, so we substitute with some canned salmon we have in the pantry. We use what we have in the fridge and pantry as far as the glaze as well, and the result is a flavorful, albeit hard to hold together, salmon burger.
We start with the salmon burgers since we want to chill them for about 15 minutes so they stay together a little better.
In a medium bowl, we dump out the drained can of salmon, picking through to remove any skin and bones. We rinse our hands and mince three of the cloves of garlic with a little salt. We mash the other two cloves of garlic with our knife, discarding the peels and setting them aside for the glaze. The minced garlic yields a little over 1 teaspoon which we add to the salmon. We freshly grind in some pepper, add 1 tablespoon of the Dijon, and the cayenne. We mix well with clean hands and form into two burgers. They are very loose (we probably could have added a beaten egg white), but we place them carefully on a large plate and refrigerate.
While the burgers are setting, we make the glaze. In a small pot, we combine the soy sauce, ginger, the rest of the garlic and Dijon mixture, the honey, and rice vinegar. We bring it to a boil, stirring with a small spoon. Then, we lower the heat and continue to cook for 5 minutes as it thickens. When it is syrupy, we taste it for seasoning, and then shut off the heat.
We heat the olive oil in our large non-stick pan over medium heat. When hot, we add the burgers carefully and cook for about 3 minutes on each side. We just want to brown the outside and heat through.
Meanwhile, we strain our glaze through a fine strainer into a measuring cup and lightly toast our hamburger buns.
We serve each salmon burger on a bun, topped with half of the glaze and pickled ginger.