Roasted Brussel Sprouts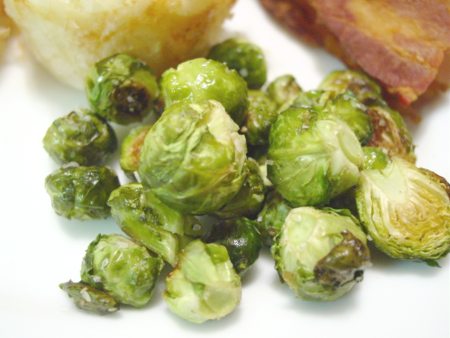 We picked up a brussel sprout stalk at the farmer's market! It is amazing to see how brussel sprouts grow – attached to a large stalk. When we get it home, we carefully remove the sprouts to a large bowl, using a paring knife. We cover with plastic wrap and refrigerate until they are ready to be cooked. In this recipe, we toss some of the very small brussel sprouts with olive oil, salt and pepper and simply roast them. They are tender on the inside and crunchy on the outside from the roasting. They taste great!
Ingredients
1

cup

small

brussel sprouts

1

teaspoon

extra-virgin olive

oil

salt & pepper
We start by pre-heating the oven to 425 degrees. We have some tiny brussel sprouts which we pick over and put in a medium bowl. The other small ones we pick over and halve and place in the bowl. We cover with water and make sure they are free from dirt. We lift them out, pat them dry, and place on a foil-covered cookie sheet. We drizzle on the oil, tossing them, and sprinkle with coarse salt and freshly ground black pepper.
We roast for 15 minutes and check. Since we have fresh small sprouts, they are nice and tender.