Southwestern Turkey Soup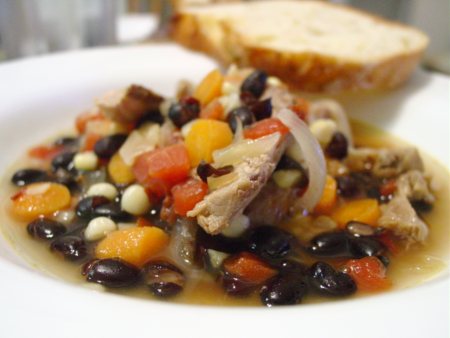 This is a delicious, quick, one-pot dinner with southwestern flavors. We use more of our Thanksgiving white and dark meat turkey leftovers that we had frozen, along with the turkey stock that we made and froze from the roasted bird. A few vegetables to chop and a few canned/frozen items, and we have a healthy soup that is filling enough for a meal.
Ingredients
1

teaspoon

olive

oil

1

small

onion

10

baby

bagged, ready-to-eat

carrots

1

canned in adobo sauce, frozen

chipotle pepper

2

cloves

garlic

salt & pepper

1

teaspoon

ground

cumin

3

cups

homemade turkey, frozen

stock

¾

cup

canned, diced, with liquid

tomatoes

¾

cup

frozen

corn

1

cup

canned black

beans

1

cup

leftover, roasted, frozen

turkey
We heat a large pot with the oil over low heat while we halve, peel, and slice our onion, yielding ¾ cup. We add the onions to the pot, stir, and raise the heat to medium-low.
We slice our carrots – yielding ½ cup – and add to the softened onions. We stir and continue to prep our ingredients.
We rinse our frozen chipotle pepper, pat dry, and mince. We crush our garlic cloves with the side of our knife, carefully, remove the peels, and mince with a pinch of salt.
We add the chipotle and garlic to the pot. The onions and carrots are getting tender, so we add the cumin and stir for another minute. Then, we add the turkey stock and raise the heat to medium. We bring the mixture to a boil, add the tomatoes, corn, beans, and turkey, partially cover, and simmer for about 10 minutes. We want the vegetables to be tender and the flavor nicely developed.