Make-Ahead Mashed Potatoes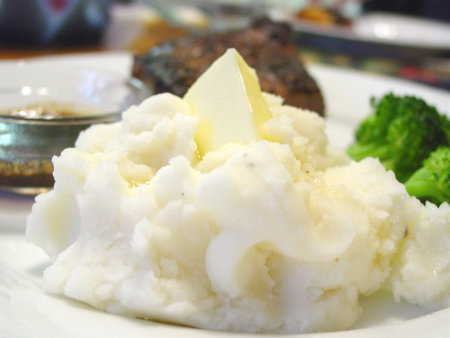 We wanted to try a tip for making mashed potatoes ahead of time that we learned on the food network. We start with
Grandma's recipe
, decreasing the amounts since company is not coming over, and cook the potatoes the night before. We rice them into a serving bowl and refrigerate. When it is time to eat, we simply reheat the riced potatoes in the microwave until hot and whip the potatoes with the butter and milk. It is a success!
Ingredients
3

large

Idaho baking, 9 ounces each

potatoes

salt & pepper

2

tablespoons

salted, plus more for garnish

butter

½

cup

milk
We started last night cooking the potatoes. We rinse each potato and dry with paper towels. We peel a potato over a large piece of paper toweling, cut in eighths on our cutting board, and put in a large pot of cold water. We continue with the other two potatoes. We carry the pot of water and potatoes over to the sink and pour out most of the water. We add fresh cold water to cover the potatoes by two inches and place on the stove over medium-high heat. We bring the water to a boil, covered. After 15 minutes, the water is boiling. We remove the cover, add some salt, and continue to cook for another 20 minutes – until fork tender.
We drain the cooked potatoes into a colander and place back in the hot pot. Using our ricer, we rice the potatoes right into a serving bowl. We let cool and then cover with plastic wrap and refrigerate overnight.
About 10 minutes before we want to eat, we take the riced potatoes out of the fridge. We heat in our microwave in 1 to 2 minute intervals. It takes us a total of 5 minutes to get the potatoes hot. We remove the plastic wrap and add the butter. We start whipping with our hand mixer, adding the milk slowly. When the desired creaminess is reached, we season with more salt and freshly ground pepper and serve right away.