Beef Fondue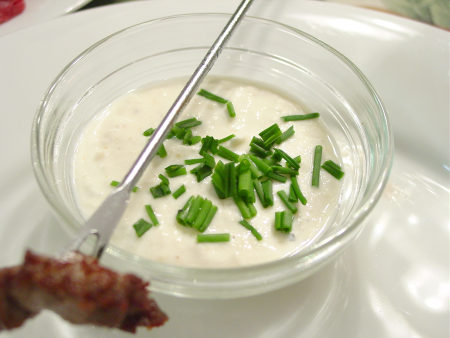 Grammy's tradition for Christmas Eve is Beef Fondue – cubes of meat cooked at the table in peanut oil. It is simple to prepare and it allows each guest to cook their meat to their preferred degree of doneness. We use two fondue pots for our large crowd but we could have cooked the meat in the one fondue pot in just half the amount of peanut oil.
Ingredients
We start the preparation by heating 3 cups of oil in a stove-safe fondue pot and the rest of the oil in a medium sized pan (our other fondue pot cannot be placed on the burner) over medium heats. We want the oils to reach 365° F.
Meanwhile, we prepare the meat. We trim and cut the tenderloin tip into cubes and cut our prepackaged sirloin cubes into smaller cubes for the fondue forks.
We wash up well, put the meats in two separate bowls for each fondue pot, wash again, and get the table ready for the fondue. We have bowls of mustard and horseradish sauce beside the meat bowls and salt and pepper shakers handy. When the oils are almost ready, we light the fondue pot burners. We pour the oil from the medium sized pot into the fondue pot that is not stove-top safe. We set both fondue pots onto their stands.
Using color coded fondue forks for each person, we stick a fork into a piece of meat and cook in the hot oil until the desired doneness. We top with salt and pepper and a choice of sauces. We are careful to regulate the temperatures under the fondue pots so the oils stay hot enough but not above 375° F or so. We definitely do not want a fire to ruin our fun!