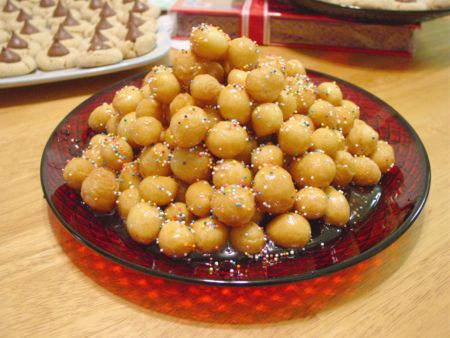 We started with two handwritten strufoli recipes from Nanny, slightly different versions of Robin's childhood Italian holiday dessert. Our adaptation uses the orange and lemon zest of one of her recipes, but does not add a "little" vanilla extract from the other recipe. It gets the seal of approval from Robin, the "honey balls", or fried dough soaked in honey and sprinkled with confetti, are crunchy, not-too-sweet, and wonderful to munch on. We hope Nanny will agree!
We start by zesting our orange and lemon with our microplane, yielding 1 tablespoon of each. In a large bowl, we combine the eggs, orange and lemon peels, oil and salt. We whisk well and then stir in the sugar, baking powder, and 2 cups of the flour with a wooden spoon.
When the flour is just incorporated, we dump out the sticky dough onto a lightly floured counter (using some of the remaining flour) and we attempt to knead it. It is rather sticky so we gradually add more flour and continue to knead for a couple of minutes. We then set the dough aside on a piece of plastic wrap and clean up the counter. We then lightly flour the counter again.
We begin heating our Dutch oven over medium heat with 3 inches of oil. We have our deep-fry thermometer in the pot to be sure the oil does not get too hot. We want the oil to be between 350° F and 360° F.
We cut off a piece of the dough with a butter knife, and stretch it on the floured counter. We want a ½ inch diameter cylinder. We use the butter knife to cut ¼ – ½ inch pieces and then roll into balls between the palms of our hands. We set the balls on wax-paper covered dinner plates. We continue until all of the dough is used. The balls of dough will dry slightly while waiting to fry. We are beginner-strufoli makers so we are not able to maintain consistent sizes. In the end, we have around 150 balls.
Into a medium pot, we pour out the jar of honey, about 1¼ cups, and cook over medium heat. When it comes to a boil, we reduce the heat to low, being careful the honey does not boil over. We continue to cook over low heat until the foam subsides and the honey is warm and thinned.
When our oil is around 350° F, we use our chinese strainer – our spider – to carefully lower 15 balls into the oil. We cook, turning occasionally with the spider, for about 3 minutes until golden brown. We drain on a paper towel lined plate and continue with another 15 balls. While these are frying, we put the fried strufoli into the honey and stir with a slotted spoon. When they are coated, we place them on a plate in a cone shape (Robin's grandmother used to use the disposable pie plates). We sprinkle with the DÉCORS, Nanny always called them "confetti", and continue frying in the oil, draining, and then soaking in the honey. After a few batches, we start putting 30 balls in the oil at a time, making sure the oil always reaches 350° F between fryings.
When all the dough is fried and coated with honey, we pour the rest of the honey over the balls to "pool" around the bottom and add some more confetti. We set aside to cool.
The strufoli that are not eaten tonight, are covered with plastic wrap and stored at room temperature for a few days.