Three-Cheese Vegetable Pasta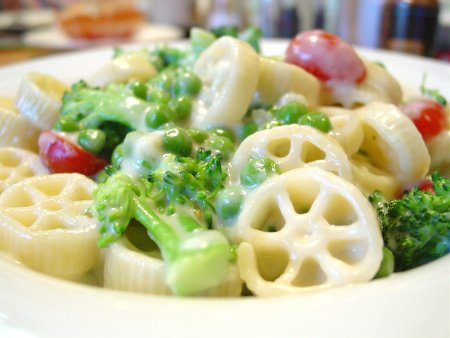 While the water is coming to a boil for some dried pasta, we get all the ingredients ready for a simple, comforting, cheese and vegetable sauce. We vary Aunt Tara's
Fettucine Alfredo
sauce to accommodate our cheese selection and add lots of vegetables we have on hand.
Ingredients
We begin by heating a large pot of water for the pasta. In a medium pot, we melt the butter over low heat and then start to cook our onions over medium-low heat. When the onion is translucent, we add the cream and milk then cook, whisking occasionally as the mixture is heated.
Meanwhile, we pulse the pieces of Locatelli and Parmigiano in our food processor – yielding ½ cup of grated cheeses. With our grating disk, we shred the pieces of gruyère cheese, cut to fit in the feed tube of our processor. We have 1 cup of packed gruyère cheese. When the cream-milk mixture is hot, but not boiling yet, we add the cheeses, a little at a time, and whisk well. Next, we mix the cornstarch and water in a small bowl and then whisk this into the almost boiling mixture. We lower the heat, add some salt and freshly ground black pepper, and continue to whisk occasionally as we cook the pasta and get ready the other vegetables.
We add the rotelle to the boiling water and cook for about 12 minutes (as directed by the package). We put the broccoli florets in a microwave-safe bowl and cook on the "fresh vegetables" function of our microwave – just for a few minutes until bright green and tender. We add the frozen peas to the sauce and stir well. These just take a few minutes to heat through. Just before the pasta is al dente, we add a couple of tablespoons of the pasta cooking liquid to the cheese sauce since it is rather thick and we want to "marry" the flavors.
As the pasta is cooking, we put our freshly toasted piece of bread into the food processor and turn on to make bread crumbs. We set this aside.
We strain the pasta in a colander and then put the wheels back into the large pot. We add 3 cups of the cooked pasta to the cheese sauce, season it with more black pepper and toss in the cooked broccoli and halved tomatoes.
We serve garnished with some freshly toasted bread crumbs.