Quick Thai Fish Curry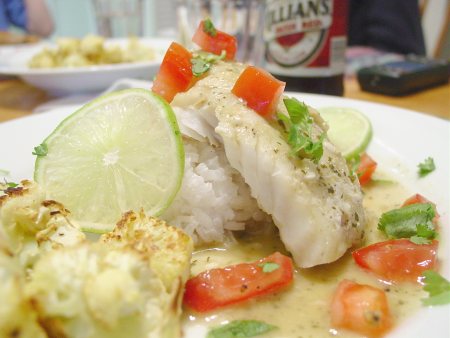 We use a Trader Joe's prepared sauce and frozen, defrosted fish fillets to make a quick, tasty dinner. The sauce has coconut, which means a higher fat content. To mitigate this, we do not use the entire jar – thinning it with water in the pan, and poaching the fish. In contrast to the
other fish curry
in our cookbook, we bring the liquids up to a boil with the fish in it, so the fillets are gently cooked and their flavor has time to permeate the sauce as well. We serve over white rice, but a noodle or pita bread would also be nice.
Ingredients
We start by chopping the tomato and placing the pieces on a plate. We season with salt and pepper and set aside.
We combine the simmer sauce and water in a pan that is large enough to hold the fish fillets in one layer. We lay in the fish, partially covered, and bring it to a boil over medium heat. This takes about 5 minutes.
We uncover, flip the fillets, and cook for a few more minutes, uncovered, over medium-low heat until the fish is just cooked through.
We cut one half of the lime into slices for garnish and squeeze the rest over the fish. We serve the fish with a good amount of the sauce and sprinkle with the reserved tomato and chopped cilantro.