Brownie Cookies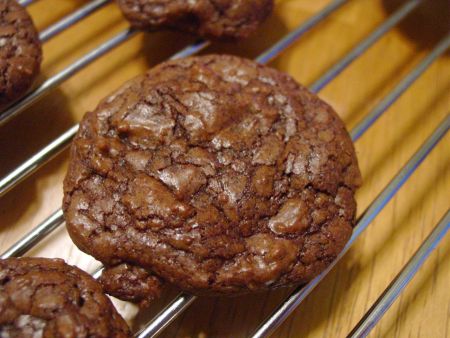 This is our daughter's first cookie recipe! She read the instructions, measured ingredients, stirred, scooped, and helped put them in the oven. We varied the recipe from a great chocolate cookbook we received from our generous neighbors—leaving out the nuts. The cookies are wonderfully chocolatey and brownie-tasting, and they are simple enough for a 6 year old to make!
Ingredients
2

cups

semi-sweet

chocolate chips

4

tablespoons

unsalted

butter

⅓

cup

unsweetened

cocoa powder

2

large

eggs

1

teaspoon

vanilla extract

¾

cup

granulated

sugar

¼

cup

unbleached, all-purpose

flour

¼

teaspoon

baking powder
We begin by preheating the oven to 350° F. In a large microwaveable glass bowl, we combine 1 cup of the chocolate chips with the butter. We put the bowl in the microwave and cook on high power for 1 minute. We stir with a spoon, it is almost all melted, so we set aside to finish melting while we line two cookie sheets with parchment paper.
We stir the cocoa into the bowl until it is well mixed. We break an egg into a cup, whisk a little with a fork, and add to the bowl. We repeat with the other egg, add the vanilla extract and sugar, and beat the mixture well with the fork. The mixture is nice and shiny.
We stir in the flour and baking powder. We are not too rigorous at this point so the batter does not get "tough". We just stir until all the flour is incorporated. Finally, we stir in the remaining chocolate chips.
Using our cookie scoop, we drop the batter onto the parchment lined cookie sheets, leaving space around them. We fit 15 cookies at a time on our cookie sheets. We place in the oven and bake for 9-10 minutes. We want the tops cracked. We remove the pans from the oven and set aside on trivets for 5 minutes to set. Then, they are removed to wire racks to cool completely.
We make 54 cookies, but some are rather small!