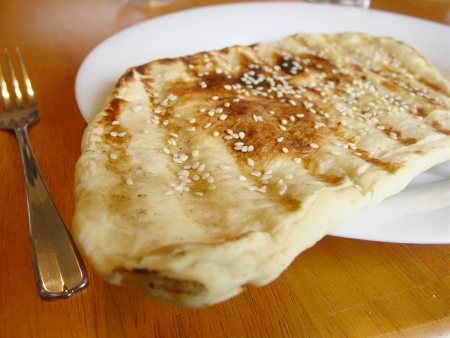 Inspired by a new book, we attempt to make "Naan"—a delicious bread that we have enjoyed many times at local Indian restaurants. The recipe is very similar to a
pizza dough
and so we decide to cook it on the outdoor grill like our
grilled pizzas
. The result is wonderful—flavorful and perfect for mopping up curries.
We start making the dough in the afternoon, 2 hours or so before we want to eat. We heat the milk in a 2-cup glass measuring cup in the microwave for 30 seconds and take the temperature. We want the milk to be between 105° F and 115° F. When it is a good temperature, we stir in the honey and then sprinkle on the package of yeast. We set it aside for about 10 minutes while we get the rest of the ingredients ready.
In the food processor, we pulse the flour, salt, and baking powder.
When the milky yeast mixture is bubbling and foamy, we stir in the yogurt, egg, and 1 tablespoon of the oil.
With the food processor on, we pour the contents of the measuring cup through the feed tube into the dry mixture. We process until the dough comes together into a ball.
We stop the machine and feel the dough. It is rather sticky, so we add half a tablespoon of additional flour and turn the machine on again briefly. We repeat with a little more flour. The dough should be slightly sticky, but should be able to pull off of your hands. We then "knead" it in the machine for 30 seconds. We want the dough to be smooth and elastic.
We place the dough into a well greased bowl and turn the dough in the oil. We cover with plastic wrap and let rise for about 1 hour in our microwave (since it is draft-free). We want the dough to be doubled in size.
After the dough has risen, we preheat our gas grill to medium heat. We oil the grates to ensure the dough will not stick. We also preheat the oven to 450° F.
We punch the dough down in the bowl and remove it to a large piece of wax paper. We knead it briefly and then divide it into six pieces.
Working with 1 piece at a time, keeping the rest covered with the plastic wrap, we pull the dough into a tear shape about 10 inches long and 5 inches wide. We place on the hot grill and let cook for a couple of minutes. We want the dough to be nicely browned. We flip with tongs and cook for another minute or two. We then remove the bread to a clean plate and repeat with another piece of dough.
Meanwhile, we put the cooked bread on a parchment covered cookie sheet and lightly brush with the remaining oil. Sesame seeds are sprinkled on.
When we have three of the breads covered with sesame seeds on the cookie sheet, we place them (on the cookie sheet) in the oven for 5 minutes or so to finish cooking through. When done, we keep warm in foil as we continue with the other breads.
We serve the naan warm.