Baked Potato Soup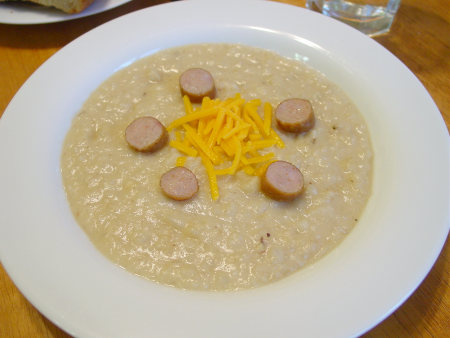 This soup emphasizes simplicity without sacrificing flavor. We start with leftover baked potatoes and chicken sausage. The baked potatoes make this a chunky soup. For a smoother purée, we could have started with raw potatoes. The baked flavor permeates the soup—making it flavorful without using stock. The soup is thick and creamy without any flour and just a touch of cream.
Ingredients
We start by heating our Dutch oven over medium heat. When hot, we add the oil and sausage and sauté until nicely browned on all sides. This takes about 10 minutes. When ready, we remove the links to a dinner plate and cover with foil. We reserve them to garnish the soup.
The chopped onion is added to the pot. We scrape up the brown bits stuck to the pan and lower the heat.
Meanwhile, the baked potatoes are peeled and cubed and added to the pot. We stir them with the cooked onions.
We carefully smash the cloves of garlic with the side of our chef knife, discarding the peels. They are minced with a pinch of salt and added to the pot.
After a minute or so of stirring them in, we add a cup of water. We season with salt and pepper and partially cover. We cook for 5 minutes.
Over a large bowl, we use our food mill to purée the contents of the Dutch oven with the medium disk. We add the purée back to the Dutch oven from the bowl and add the milk and cream. We simmer for another 5 minutes, partially covered.
When ready to serve, we taste for seasoning and serve with the reserved sausages and cheddar cheese.