Bacon and Egg Salad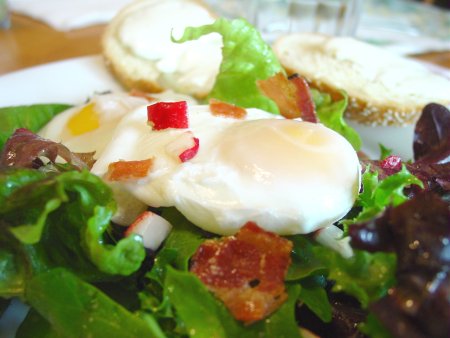 Inspired by the classic French bistro frisée salad containing poached eggs and slab bacon, we create our own bacon and egg salad. The bacon, lettuce, and radishes are tossed with a sharp sherry vinaigrette and then topped with tender poached eggs. The result is a rich and satisfying (low-carb!) lunch or dinner salad.
Ingredients
3

cups

mesclun

3

large

farm-fresh

eggs

½

tablespoon

distilled white

vinegar

3

slices

fully cooked

bacon

(Oscar Mayer)

½

tablespoon

sherry wine

vinegar

½

teaspoon

Dijon

mustard

salt & pepper

1

tablespoon

extra-virgin olive

oil

2

medium

radishes
After we clean the lettuce, we set it aside in a large bowl.
In our 10 inch nonstick skillet, we heat 2 cups of water over medium heat. This is just under an inch of water. When it comes to a boil, we add the white vinegar.
We crack each egg into a ramekin and then gently slide into the simmering water. As the eggs are immersed, we use a spoon to wrap some of the white of the egg toward the yolk. When the eggs are in the water, the pan is covered with foil and a lid (from a different pot) and we take the pan off the heat. We cook the eggs off heat for 7 minutes for runny yolks (or until desired doneness). When the eggs are done, we take them out with a slotted spoon and put them on a paper towel lined plate to drain.
Meanwhile, we cook the bacon in the microwave according to the package directions. We want the bacon crispy so we give it a longer cooking time than recommended.
While the eggs poach, we make the dressing in a resealable plastic container. We combine the sherry vinegar, mustard, some salt and pepper and whisk with a fork. We add the oil, cover, and shake.
We toss the reserved lettuce with the dressing, sprinkling on the diced radishes and crumbling in the bacon. We plate the salad and top one salad with two of the drained eggs and one salad with one of the eggs. The eggs are sprinkled with salt and pepper and the salads served.