Mustard Vinaigrette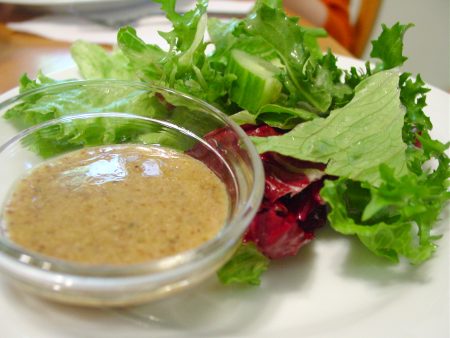 We make a simple dressing for salad with the standard three to one ratio of oil to vinegar. The difference with this dressing from our other vinaigrettes is the larger amount of Dijon mustard. This dressing is especially delicious with simple greens, roasted red peppers, and feta cheese.
Ingredients
2

tablespoons

Dijon

mustard

2

tablespoons

Chianti red wine

vinegar

1

teaspoon

kosher

salt

½

teaspoon

coarsely ground

black pepper

6

tablespoons

extra-virgin olive

oil
In a resealable plastic container, we combine the mustard, red wine vinegar, salt and pepper. We mix well with a fork and then add the oil. We cover and shake well.
The dressing is drizzled on salad greens and then stored in the refrigerator for up to a week until ready to use.